Baltimore
Rosedale
White Marsh
Bradshaw
Harford
Joppa
Van Bibber
Abingdon
Aberdeen
Havre de Grace
Cecil
Perryville
Principio Furnace
Charlestown
North East
Elkton
MD 7
· (Old) Philadelphia Rd.
9 sections
Status: Marked east-west.
Created by the construction of Pulaski Hwy., modern US 40, in 1935. MD 7 comprises the old 40. It's in several pieces, as explained below.
Associated Secret-Obscure Routes:
327 490
Sections of MD 7: These are all signed as part of the 7 mainline.
MD 7: Philadelphia Rd. (BA, HA) 22.83 mi.; Along north side of 40 from Baltimore City line to US 40 just west of Aberdeen. Longest stretch by far, and the one shown on most maps. Part of old road relocated near I-95 Exit 80 at MD 543. Old 40 in the Aberdeen area is known as 'Old Post Rd.' Although unsigned as 7, parts of this segment are Routes 159 and 132.
MD 7A: Old Post Rd. (HA) 2.66 mi.; runs south of 40 east, becomes Union St. in Havre de Grace. Turns left (north) on Revolution St., joining back up with 40 to cross the Susquehanna River.
MD 7B: Principio Furnace Rd. (CE) 3.56 mi.; south side of 40. Begins in Perryville as Broad St., on the east side of the Susquehanna, south of 40 near the east end of the railroad bridge. Merges with US 40 near Principio Furnace. About 1 mi. on 40 between 7B and 7C.
MD 7C: Philadelphia Rd. (CE) 9.73 mi.; Loops south of 40, runs down to Charlestown, through North East, joining with 40 again just west of Elkton.
MD 7D: Main St.-Delaware Ave. (CE) 2.55 mi.; Elkton, running north side of 40. This last incarnation of 7 ends at 40 about 2 miles from the Delaware line. The old Philadelphia Road, however, sneaks out of state as MD 281. Although known as Red Hill Rd. in Maryland, its name in Delaware betrays its history-Old Baltimore Pike, the name of the road out from Philadelphia.

Those below are off the mainline.
MD 7BA: 64th St. (BA) 0.18 mi.; Connector between US 40 and MD 7 near the city line in Rosedale.
MD 7E: (no name) (CE) 0.09 mi.; Small connector between MD 7D and US 40 east of Elkton.
MD 7H: (no name) (CE) 0.12 mi.; Spur north off MD 7C halfway between North East and Elkton.
MD J: Industrial Park Rd. (BA) 0.14 mi.; connects MD 7 and new MD 43 ramps, White Marsh.

7
0.0
US 40
2.3
MD 588
2.5
I-695
34
2.9
Rossville
6.1
Campbell
6.6
MD 43
11.5
BA-HA Line
13.6
MD 152
16.0
MD 24
18.8
MD 136
19.7
MD 543
22.8
US 40
22.8
MD 159
7A
0.0
US 40
1.5
MD 490
2.7
US 40
2.7
MD 155
7B
0.0
road end
0.5
MD 222
0.8
MD 327
3.6
US 40
7C
0.0
US 40
1.2
MD 267
2.6
MD 267
4.9
MD 272
7.4
MD 7H
9.7
US 40
9.7
MD 279
7D
0.0
US 40
0.1
MD 7E
1.6
MD 281
1.7
MD 268
1.9
MD 213
2.6
road end

Queen Anne's
Stevensville
Matapeake
Normans
Mattapex
Romancoke
MD 8
· Romancoke Rd.
8.37 mi.; from MD 18 across US 50 south to Romancoke
Status: Marked north-south.
MD 8 is a relatively new route, in the numbering sense. This stretch has held the numbers 33, 33-404, and finally 8. It is (unless MD 9 is signed tomorrow) the newest and shortest single digit route, individual segments of MD 7 notwithstanding. A ferry once connected Romancoke across Eastern Bay with Claiborne. Both ends were designated Route 33. Another ferry carried traffic across the bay to Annapolis from Matapeake (access road was secret 759), north of which was MD 404. In 1949, US 50 relegated 404 to its current extent. When the Bay Bridge opened in 1952, 33 was connected with 18 just north of the Bay bridge eastern approach. The Romancoke ferry was discontinued, so a new number was required for the northern segment, while 33 remained in Talbot Co. Why 8 was chosen is beyond me. I'll have to make a map to really explain this thing- the first of many, I suppose.
Associated Secret/Obscure Routes:
759 802 835 835A
8
8.4
MD 18
8.1
US 50-301
37
7.9
MD 835A
5.2
MD 802
4.2
MD 802
0.0
BSM

MD 9
Status: Not assigned, but it was apparently almost assigned to current MD 140.
A 1979 AAA map (sent to me my Mark Greenwald) showed a MD 9 replacing the decommissioned US 140, suggesting the number was considered by SHA before deciding to keep the 140 number as a state route. According to a newspaper article ("Three Roads Renumbered", The Frederick News, December 5, 1978) SHA originally intended to change the current 140 west of Reisterstown to MD 9, effective January 1, 1979. Reisterstown Road southeast to Baltimore was to be MD 140. This would have made an unusual junction where three routes ended-9, 30, and 140. I am still unsure of when the decision was made to drop MD 9 and use 140 for the whole route, and whether it was ever signed as MD 9. Surely any place with '140' in their name along the entire route would have had to change references to 140 in names, business cards, etc. Thus it would have been a cool reception at best. I wonder how they managed to get 45 and 355 pushed through as new numbers for 111 and 240 when they were decommissioned.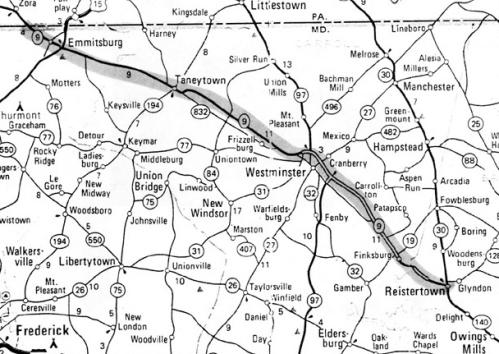 A possible usage of MD 9?. This AAA map shows MD 9 used in place of the then decommissioned US 140.
A later ADC Maryland-Delaware atlas once showed in error a MD 9 marker along US 113 in the vicinity of Klej Grange, north of Pocomoke City. It was on their first edition of a computer-generated map and there were many small errors, like wrong state route shield (give them a hand for having correct state marker shapes!). Route 9 disappeared in subsequent editions.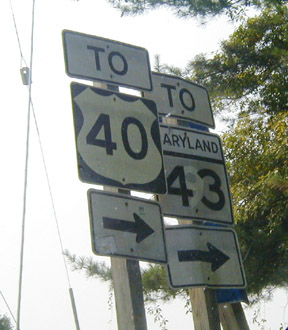 There is also a MD 43 marker on eastbound Silver Spring Rd at Honeygo Blvd in White Marsh which, when light hits it right, one can see a lighter colored '9' under the black '43.' The 9 number was in a font commonly used in the 1970s.

Anne Arundel
Glen Burnie
Harundale
Pasadena
MD 10
· Arundel Expwy.
7.17 mi.; from I-695 Exit 2 south to MD 2, Severna Park
Status: Marked north-south.
Limited Access: Entire length, exits not numbered on overhead signs.
NHS: Entire length.
Associated Secret-Obscure Routes:
711 915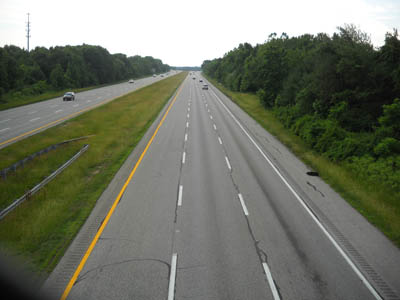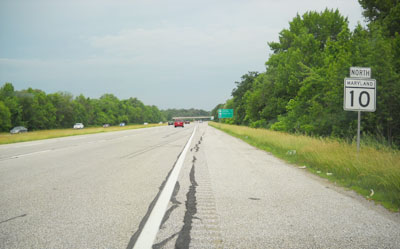 10
7.2
7
I-695
2
6.2
6
MD 710
5.0
5
MD 270
3.6
4
MD 648
1.7
3
MD 177
1.3
2
MD 100*
17
0.8
1
MD 100*
18
0.0
MD 2

Washington
US 11
· Potomac St [Williamsport], Virginia Ave, Burhans Blvd, Pennsylvania Ave, Middleburg Pike
12.83 mi.; from WV line near Williamsport north to PA line at State Line, PA.
Status: Marked north-south.
US 11 has its own page in the US highway section.