Washington
Williamsport
Halfway
Hagerstown
Fountain Head
US 11
· Potomac St [Williamsport], Virginia Ave, Burhans Blvd, Pennsylvania Ave, Middleburg Pike
12.83 mi.; from WV line near Williamsport north to PA line at State Line, PA.
Status: Marked north-south.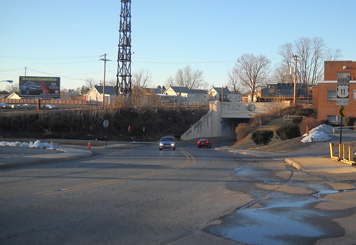 US 11 (Burhans Blvd) at RR underpass, Hagerstown.
US 11 has a relatively short run through Maryland, as does its successor I-81. It enters from West Virginia at Williamsport, which features a short concurrency with MD 63. (North of US 11, 63 used to be MD 398.) US 11 continues along Virginia Avenue northeast toward Hagerstown.
North of Burhans, US 11 originally continued along Virginia Avenue onto two one-way streets (Prospect St southbound/Jonathan St northbound) though the center of Hagerstown. It was later rerouted along Burhans Blvd., which runs next to the railroad yards just west of Hagerstown. North of town, it runs straight as an arrow along Pennsylvania Avenue/Middleburg Pike, except an eastward bulge to accomodate the initial lengthening of the Hagerstown Municipal Airport runway. When an additional lengthening became necessary recently, a tunnel was built for US 11.
Looking at the national picture with I-81, US 11 is a prime candidate to be decommissioned. It never strays far from an Interstate, usually I-81, except in northern New York State, after I-81 runs for the Canadian border. Doing so would equate with the dropping of US 99. Any historical US 11 pages out there, as with 40, 66, 99, and the Lincoln Highway?
11
12.8
PA 163
12.8
PA Line
7.3
US 40
1.7
I-81
2
0.8
MD 63*
0.6
MD 63*
0.6
MD 68
0.0
WV Line