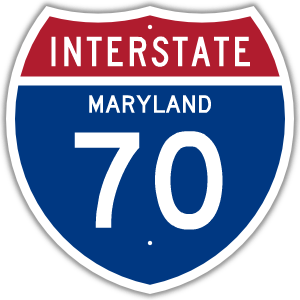 Washington
Frederick
Carroll
Howard
Baltimore
Formerly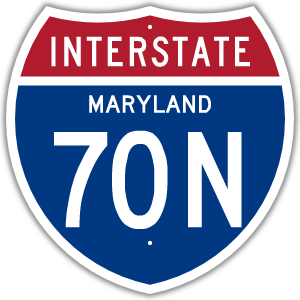 I-70
·
93.62 mi. in Maryland; from PA Line in Hancock east to dead end Park & Ride at Baltimore City Line.
Marked east-west.

SHA I-70 strip map with interchange details, 1976. Note original Frederick Freeway Exits 1-4 are still there.
A section near MD 615 east of Hancock, and the original Frederick US 40 Bypass were completed by 1961. The section south of Frederick still has narrow shoulders, even curbs in places, and short merge distances. [Exits in brackets are the original exit numbers of the Frederick Freeway.] By the mid 60s, I-70 was complete between Frederick and Hagerstown. The bypass of the built-up parts of US 40 west of Baltimore to I-695 was completed by 1970 as I-70N. In 1973, I-70N changed to just I-70, I-70S becoming I-270. US 40 from east of Frederick to Ellicott City was upgraded to limited access in stages during the late seventies. As late as 1985, there were at-grade intersections on I-70 a few miles to the east of Frederick, roughly Exits 56-59, and this was upgraded by the early nineties. A new Exit 54 interchange with MD 85 and East Street (unsigned MD 475) was opened in 2009, replacing the older interchange with MD 355, shoehorned in next to the splits with I-270 and US 15-340.
I-70 was supposed to end at I-95 just east of Caton Ave. (Exit 50) and there were ghost ramps there until they were removed in the late 1990s. I-70 through Baltimore City was killed due to community concern about its course through Leakin Park and along the Gwynns Falls. Also killed was the western part of its spur, I-170, that had not already been built. The section completed along the Franklin-Mulberry corridor (US 40 west and east bound, respectively) was redesignated US 40 in 1989. I-70 now ends at a park & ride at the city line.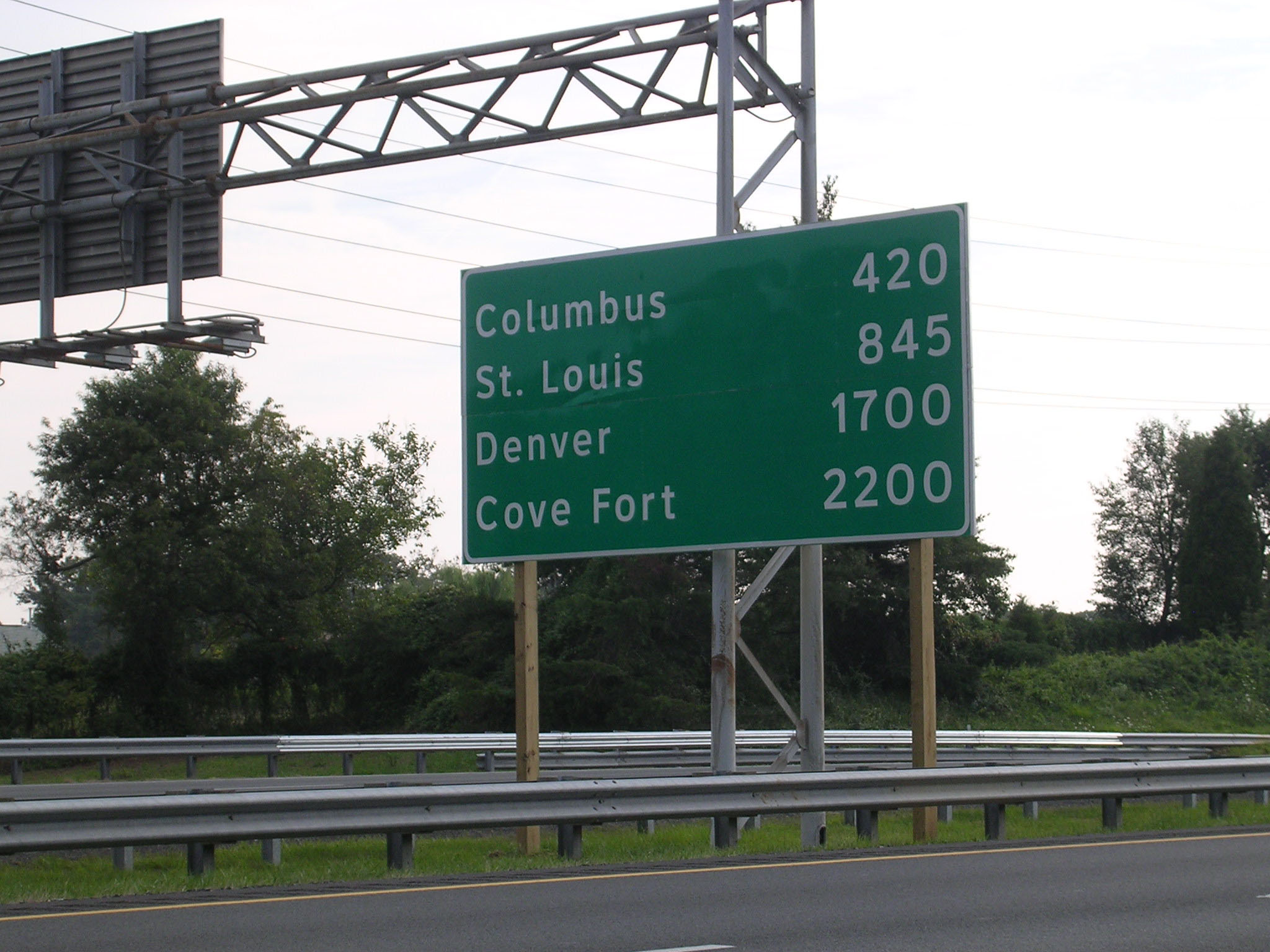 70
0.0
PA Line
0.6
1a
I-68
82
1.2
1b
US 522*
3.6
3
MD 144
4.4
5
MD 615
5.9
5
MD 615
9.2
9
US 40*
12.0
12
MD 56
17.6
18
MD 68
24.1
24
MD 63
25.7
26
I-81
3
29.1
29
MD 65
31.7
32
US 40*
34.3
35
MD 66
38.3
WA-FR Line
41.9
42
MD 17
48.8
48
US 40*
49.1
49
US 40 Alt
52.1
52
US 15-340
14
53.0
53 [4]
I-270
32
53.8
-- [3]
MD 355 (gone)
54.1
54
MD 85 (new)
54.7
55 [2]
South St
54.7
55 [2]
Monocacy Blvd
55.2
56 [1]
MD 144
58.5
59
MD 144
62.3
62
MD 75
67.7
FR-CR Line
67.7
68
MD 27
69.3
CR-HO Line
73.1
73
MD 94
76.3
76
MD 97
80.0
80
MD 32
82.1
82
US 40*
82.9
83
Marriottsville
87.0
87
US 29
25
88.8
HO-BA Line
91.7
91
I-695
16
93.4
94
MD 122
93.5
BA-BC Line
93.6
Park & Ride