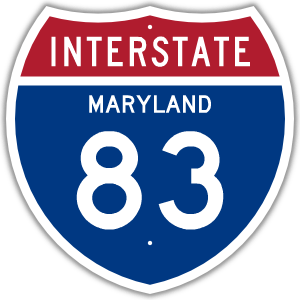 Baltimore
Baltimore City
I-83
· Baltimore-Harrisburg Expwy., Jones Falls Expwy. (JFX)
34.50 mi. in Maryland; from Fayette St., downtown Baltimore north to PA Line.
Marked north-south.

SHA I-83 strip map with interchange details, 1976.
Parts of the Baltimore-Harrisburg Expressway predate the Interstate system, built as the new US 111 to replace York Rd. By 1955, it was completed from the new Baltimore Beltway north to Shawan Rd, with one side completed north to Belfast Rd.
Most of the Jones Falls Expressway (JFX), the part of I-83 inside the Beltway, was mostly completed by 1963 from the Beltway down to Guilford Ave. It was extended in the seventies to Monument St, and by 1983 ended at Pleasant St, with a dead end bridge with a park & ride. Plans here were to extend the JFX south along President St, then east roughly along Boston St to I-95, where ghost ramps still exist for this connection. It would have plowed through the Fells Point and Canton areas, one of the few original samples of housing from the 18th century, the former of which predates Baltimore itself. Although it has been scrapped and never built, mileage seems to begin at the planned I-95 junction.
By 1990, I-83 was completed with a traffic light at Fayette St, and President St was widened and extended as a divided highway to be able to handle additional traffic down to Eastern Ave and Fleet St. Parts of Boston St were also widened and divided. A current proposal seeks to dismantle the newer, elevated part of the highway below Guilford Ave., and replace it with a surface highway, similar to President St south of Fayette.
Much has been asked about why I-83 is non-contiguous, offset by 1.4 miles along the Beltway. Two other alignments were proposed, one the original plan (inside the Beltway) and the second (outside it) an attempt to reconcile things after the fact. Both were shelved due to community opposition. The first planned alignment for the northern Jones Falls Expwy (JFX) would have continued north up the Jones Falls Valley past Lake Roland, through Ruxton and Riderwood, roughly along the current Light Rail tracks to the current Harrisburg Expwy. In order to bypass these areas, the northern end was shifted west, to parallel Falls Road. The second attempt at a link between the two disjointed parts took place in the 1970s. It would have extended north from the current JFX end at Brooklandville northeast to the Harrisburg Expwy just north of Padonia Rd, near where it curves northward. The result was the current "two-83 solution," the staggered exits off I-695. Traveling this part of the Beltway is referred to as going 'between the 83s' or 'through the 83s.'
Honestly, though, I couldn't imagine it any other way now; my thoughts are, is it really that bad? Vehicles do not have to change lanes except to switch off between 83 or 695. There are three left lanes for 695 and two on the right for 83 for the entire length of the 83/695 concurrency.
If I have a gripe about I-83, it's the lack of state routes among its exits just north of 695 in the busy Hunt Valley and Timonium areas. As you can see on the strip map, there's no state route for 13 miles between the Beltway and Hereford at MD 137. Actually, there is a route crossing I-83, MD 131, Seminary Road just north of I-695, but no access. When Maryland created state routes off of York Rd (then US 111, now MD 45), the settlement pattern centered along the Gunpowder Falls and the Northern Central Railroad. Only with the emergence of auto travel does settlement move away from the tracks. Of MD 142, 143 and 145, only the last remains, and only 2 lanes east of MD 45, while immediately to the west is 6-8 lane, and unnumbered, Shawan Road. It connects to I-83 at Exit 20, and serves as the northern limit of development in Baltimore County. The corridor as a whole is a poster child for some additional routes to reflect the importance of Shawan, Padonia and Timonium Roads (not likely, as it would require SHA maintenance), or for establishment of county route systems. The status quo is great for me as an unofficial historian (because what remains is almost the same now as 70+ years ago), but less so for an ordinary traveler.
83
34.5
PA Line
34.4
37
Freeland Rd.
33.2
36
MD 439
29.6
33
MD 45
27.6
31
Middletown Rd.
24.3
27
MD 137
21.0
24
Belfast Rd.
17.2
20
Shawan Rd.
15.4
18
MD 943
14.0
17
Padonia Rd.
12.6
16
Timonium Rd.
11.3
14
I-695*
24
9.7
13
I-695*
23
9.0
12
Ruxton Rd.
6.7
BC-BA Line
5.9
10
Northern Pkwy.
4.7
9
Cold Spring La
3.0
8
MD 25
2.4
7
28th-29th
1.9
6
US 1
1.9
6
US 40 Trk
1.5
5
Maryland Ave.
1.3
4
MD 2
0.9
3
Chase
0.3
2
Pleasant
0.0
1
Fayette
0.0
President