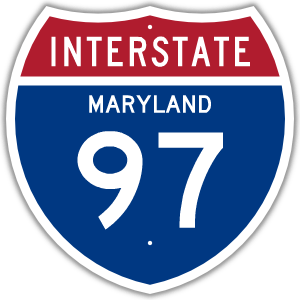 Anne Arundel
I-97
17.53 mi.; from US 50 near Annapolis north to I-695, Glen Burnie.
Marked north-south.
the shortest 2-digit Interstate (excluding the H-x's in Hawaii)
the only 2-digit Interstate not to connect to another 2-digit Interstate
the only 2-digit Interstate entirely within a single county (Anne Arundel), again excluding Hawaii.
In the late 1970s, there developed a need for an alternative to the congestion of Ritchie Highway (MD 2) between Baltimore and Annapolis, which had become little more than a 25 mile long shopping strip. The first proposal to be considered was the Arundel Expressway, to run just east of MD 2. It was partially completed from I-695 south to MD 648 in Harundale and marked MD 10. However the plan to continue 10 to Annapolis was killed. Looking at a map of the area, the proposed 10 would have cut through some waterfront communities east of MD 2, making land acquisition costs prohibitive. An alternate alignment was put forward, that of the Glen Burnie Bypass and Crain Highway (MD 3), coupled with Generals Highway (MD 178). This one had two main things going for it. First, it would not only serve Baltimore-Annapolis traffic, but also some Baltimore-Richmond traffic once served by US 301. Second, west of MD 178 in Crownsville there is the Crownsville State Hospital, which sits upon a wide swath of unused but already state-owned land through which to build.
The section between Exits 1-5 was completed in 1989 as a 4-lane with wide median. This southern section parallel to 178 was the only part of 97 that used a new alignment. There is no access for the 4 miles south of 178 to 50 (Exits 5-1) , due to local concerns about development near interchanges. It looks more like part of a more rural Interstate like 70 or parts of 83. (I don't mean to give ammunition to the 'extend 83 south down 97' crowd.) :)
The part of 97 between exits 6-12 is a 6-lane concrete roadway, and was opened in 1992-93. Between the MD 3 split and Glen Burnie Bypass, it was necessary to eliminate the southbound lanes of 3 and its extra-wide median. The northbound roadway was reverted to a two-way parallel service road, but not really a frontage.
This left the upgrade of the old Glen Burnie Bypass of early 60s vintage to 6 lanes, which was done in stages from 1994-97. The I-695 interchange was dramatically upgraded, allowing easier merge into 695 to the west of 97. In fact, approaching 97 from the east on 695, one must get into the far left lane just to remain on 695 afterward, and 695 has to merge with 3 lanes of 97 traffic. Ramps for 695 east to the Key Bridge and the I-895 spur to the Harbor Tunnel remained mostly unchanged, although they are now left exits from 97.
So why 97 and not an x95? Don't know for sure, but it may be because Annapolis is considered a separate urban area from Baltimore, though both belong to the same MSA.
If 97 gets extended down 3 and 301, all this discussion becomes a moot point. US 301 is already a major inter-regional corridor - all the more important given possible future problems with the Woodrow Wilson Bridge. Such an extension of I-97 down the US 301 corridor would be a fine addition to the Interstate system. The only obstacles to a 3-301 upgrade would be dealing with the high-traffic areas of Crofton and Waldorf.
A previous misc.transport.road discussion about the feasability of extending 97 north along I-895, ending at I-95 in northeast Baltimore. It is a decent idea, but IMHO it would be even better, given the configuration of the I-695 interchange, to extend 97 north to reach 95 either directly on 695 or by turning north at 295. The latter route is the same as that of the old US-301/MD-3, and would result in a co-signed 97-695.
97
17.5
17A
I-895
6a
17.3
17B
I-695
4
15.5
16
MD 648
14.7
15
MD 176
13.8
14
MD 100
13
13.2
13
MD 174
12.1
12
MD 3 bus
9.6
10
Benfield
7.4
7
MD 3
6.7
7
MD 32*
1
5.2
5
MD 32*
0.0
1
US 50-301
21