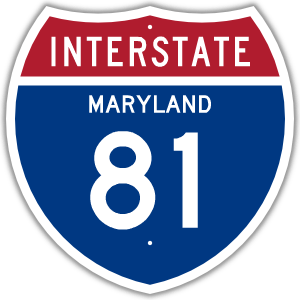 Washington
I-81
· Maryland Veterans Memorial Hwy.
12.08 mi. in Maryland; from WV Line near Williamsport north to PA Line.
Marked north-south.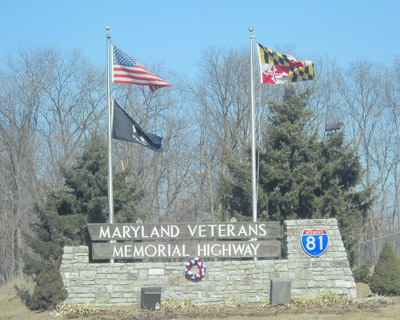 I-81 has the shortest run through Maryland of the six 2-digit Interstates at just over 12 miles, also by far the shortest stay by I-81 in the six states through which it passes.
The section in Maryland north of US 40 was complete by 1962, construction of the southern segment beginning in that year. The entire Maryland segment was opened by the mid sixties, and offered a bypass of US 11 through Hagerstown. I-81 parallels US 11 almost its entire path.
81
12.08
PA Line
12.00
1 (PA)
PA 163
10.42
10
Showalter
9.59
9
Maugans
8.08
8
Mauganville
7.70
7
MD 58
6.85
6
US 40
4.63
4
Halfway
3.63
3
I-70
26
2.37
2
US 11
0.88
1
MD 68
0.00
WV Line