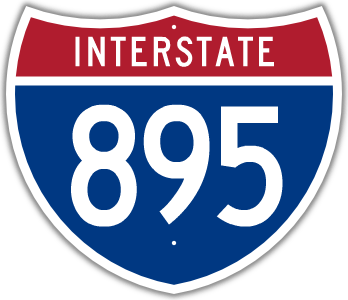 Howard
Baltimore
Anne Arundel
Baltimore City
I-895
· Harbor Tunnel Thruway
14.87 mi.; from I-95 near Elkridge northeast to I-95 at eastern Baltimore City limits.
Marked north-south.
The Baltimore Harbor Tunnel was opened November 29, 1957, and originally extended from US 1 near Elkridge to US 40 (Pulaski Hwy) in eastern Baltimore City, with a spur southward to Ritchie Hwy. (MD 2). Soon thereafter another fork of the spur would be built to the Glen Burnie Bypass (then MD 3, now I-97). Plans for a bypass connection between the main arteries for inter-city traffic through Baltimore (US 1 southwest and US 40 northeast) date back to 1944. Baltimore in the postwar years developed a reputation as a horrible specimen of gridlock. Prior to the tunnel's completion, traffic backups heading northeast into Baltimore along US 1 were known to extend all the way to New York Ave. in Washington DC, a distance of over 35 miles. With the construction of I-95, the Tunnel Thruway was extended northeast to meet it, as it did its southwestern counterpart in 1973.

In order to keep the Harbor Tunnel clear for thru traffic, there were no exit ramps on either side before crossing the tunnel and the toll plaza; only after crossing were exit options available. Only recently was an exception made, at East Lombard St on the north side of the tunnel, to facilitate access to Bayview Medical Center.

The tunnel was not originally in the Interstate system, I-895 appearing on maps circa 1983, and signs a while later.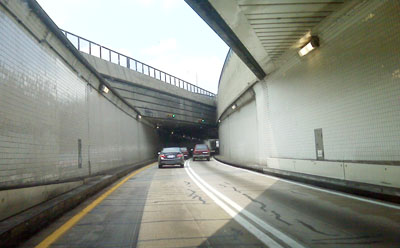 With the opening of the I-95 Fort McHenry Tunnel allowed a much needed renovation of the 'old tunnel' as it's sometimes called by locals. It remains today as one of the best kept secrets when traveling up and down the East Coast. Last Thanksgiving weekend, I exited onto 895 northbound from 95, and I didn't have another soul on my side of the road until the merge of the I-895 spur. On the southbound side I counted fewer than 15 cars.
Suffixed Sections of I-895:
I-895A: 0.71 mi.; from the I-895 Spur southwest to I-695 Exit 4 and I-97. Signed as TO I-97.
I-895B: 2.67 mi.; signed as I-895 SPUR from I-895 south to MD 2.

895
14.9
=
I-95
62
13.9
14
Moravia
13.3
13
US 40
12.4
12
Lombard
11.7
11
O'Donnell
11.0
10
Holabird
10.2
N Entr Tunnel
8.9
S Entr Tunnel
8.3
9
Childs
8.1
Toll (Cars $3)
7.8
8
Frankfurst
6.7
7
MD 2
6.4
AA-BC Line
5.8
6
I-895 spur
5.6
BA-AA Line
4.4
4
MD 295
3.4
3
I-695
8a
1.0
1
US 1
1.0
HO-BA Line
0.0
=
I-95
46
895 (a)
0.7
6A
I-895B
6
0.0
6A
I-97
17B
895 Spur (b)
2.7
6
I-895
1.0
6A
I-895A
0.8
--
I-695
3B
0.0
6B
MD 2