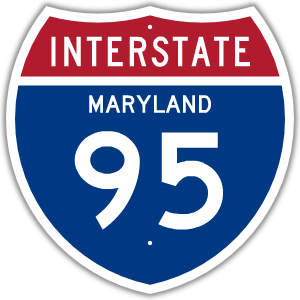 Cecil
Harford
Baltimore
Baltimore City
Baltimore
Howard
Prince George's
I-95
· Capital Beltway, Fort McHenry Tunnel, John F. Kennedy Mem. Hwy.
109.65 mi.; from DC border at Woodrow Wilson Bridge north to Delaware border near Newark.
Status: Marked north-south.
I-95 Photo Gallery: Express Toll Lanes
The first section of I-95 to appear in Maryland was the toll Northeast Expressway, opened on November 14, 1963 with a ribbon cutting by President John F, Kennedy. It was renamed for the late President after his assassination the following week. The John F. Kennedy Highway extended from the official end of the Harbor Tunnel Thruway at Moravia Rd. The toll section began at White Marsh Blvd. (MD 43) and continued all the way to the Delaware line, where another toll awaited. Tolls were also collected at many of the ramps until the mid-1970s.

Today, the only toll on the old JFK Highway in Maryland is $5.00 over the Millard E. Tydings Bridge charged eastbound only. On the other hand, it's $2.50 each way for the privilege of entering Delaware on I-95. There's no signage at the last Maryland exit saying it's the last exit before the toll. Usually Maryland is very good about such signage. Guess maybe since it's not their toll....

The original exit numbering was as follows (current numbers in parentheses):
1. (now exit 14 of I-895) Moravia Rd.
2. (64) Baltimore Beltway (I-695)
3. (67) MD 43 - begin of toll section
3A. (74) MD 152 - Mountain Rd. (to/from south only)
4. (77) MD 24
5. (85) MD 22
6. (89) MD 155
7. (93) US 222 (now MD 222)
8. (100) MD 272
9. (108) MD 279
The interchange for MD 543 (Exit 80) was added after the changeover.
I-95 between Baltimore and Washington beltways was completed around 1971, replacing the Baltimore-Washington Parkway. From I-495 in towards the DC line was never completed since the District killed its section of I-95 along with many if its other proposed freeways. In 1977 Maryland rerouted I-95 onto the east section of I-495 where it is today.

Original early Baltimore freeway plans had I-95 going west along Boston St. through Canton and Fells Point, the latter one of the last remaining neighborhoods on the East Coast with intact 18th Century structures. It would have then cut through Federal Hill via a low bridge over Baltimore's Inner Harbor, denying access to tall sailing ships. The whole thing was scrapped and I-95 planned for a more southerly crossing.

By 1980 all of the current routing was completed with the exception of the Fort McHenry Tunnel, which was completed in November 1985. Until Boston's Big Dig project, this was the most expensive single structure on the Interstate system. It consists of four curved tunnels of two lanes each, far more difficult than running the tunnel straight.
In 2006, construction began on I-95's Express Toll Lanes, beginning at the northeastern Baltimore city line. It would provide a 270-like configuration of 12 lanes, with the center lanes as toll. At the interchanges, there will be two sets of ramps, one to reach the center express lanes directly. At this time (June 2007), work has begun on the first section in Baltimore County. The 95-895 'split' is being reconfigured to eliminate left exits. At I-695, an 80-foot-tall stack interchange is under construction, replacing the interchange which featured not only left exits, but crossover of the carriageways themselves to the left. Construction will continue until 2010.
95
109.7
DE Line ($4.00 Toll)
108.9
109
MD 279
100.0
100
MD 272
93.4
93
MD 222
91.7
Toll (Cars $6 E/B)
89.2
89
MD 155
84.9
85
MD 22
80.5
80
MD 543
76.6
77
MD 24
74.3
74
MD 152
67.0
67
MD 43
63.7
64
I-695
33
60.8
62
I-895
60.6
BC-BA Line
60.0
61
US 40
59.8
60
Moravia Rd.
58.5
59
MD 150
57.7
58
Dundalk Av
57.0
57
Boston St.
57.0
57
O'Donnell
56.0
56
Keith Ave
55.8
Toll (Cars $3)
55.4
E End Tunnel
54.1
W End Tunnel
53.5
55
Key Hwy.
52.7
54
MD 2
52.1
53
I-395
51.7
52
MD 295
50.9
51
Wash. Blvd.
49.8
50
Alt US 1
49.3
BA-BC Line
48.5
49
I-695
11
46.5
47
I-195
4
46.5
47
MD 166
45.7
HO-BA Line
46.5
46
I-895
-
42.3
43
MD 100
5
38.2
38
MD 32
15
35.3
35
MD 216
34.1
PG-HO Line
32.7
33
MD 198
31.4
31
MD 200 (UC)
19
28.5
29
MD 212
26.1
27
I-495*
27
25.2
25
US 1
23.0
23
MD 201
22.1
22
MD 295
19.6
20
MD 450
18.5
19
US 50
7
16.6
17
MD 202
14.8
15
MD 214
10.8
11
MD 4
9.1
9
Suitland
7.3
7
MD 5
4.3
4
MD 414
2.8
3
MD 210
1.7
2
I-295
0.5
Ctr. of WWB
0.0
I-495*
0.0
DC-VA Line