Frederick
Emmitsburg
Thurmont
Frederick
Jefferson
Point of Rocks
US 15
· Catoctin Mountain Hwy, Jefferson National Pike [with US 340], Frederick Freeway
37.85 mi. in Maryland; from VA line at Point of Rocks north to PA line north of Emmitsburg.
Status: Marked north-south.
NHS: Entire length in Maryland.
Associated Secret-Obscure Routes:
806 875
The north-south backbone of Frederick County, US 15 once followed what is now MD 85 south to MD 28 in Licksville, then west to Point of Rocks before its current duplex with US 340, rerouted in November 1970. The Frederick Bypass was built in the 1950s as a pre-Interstate expressway. Prior to a recent exit renumbering, we reverted to the original Frederick Freeway exit numbers (5-9) north of I-70. So where were old Exits 1-4? Buried under I-70's current numbers; exit 1 was Patrick St. swinging westward along US 40's piece, then north on US 15 for old exits 5-9. [Shown in brackets thus.]
North of Frederick, 15 is a wide 4 lane divided highway along the eastern slope of Catoctin Mountain. There is an unsigned Business US 15 (Seton Ave) through Emmitsburg. US 15 becomes a limited-access highway again upon crossing into Pennsylvania north to Gettysburg.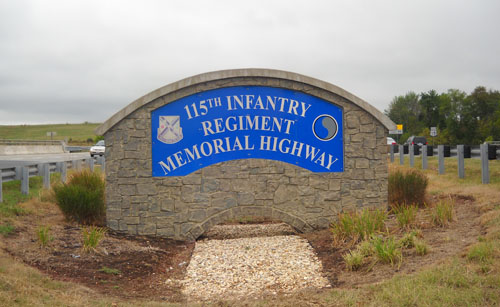 115th Infantry Regiment Memorial Highway, US 15 just south of MD 140, Emmittsburg
15
37.9
PA Line
37.4
US 15 Bus
36.6
MD 140
35.0
US 15 Bus
33.5
MD 76
29.4
MD 550
28.6
MD 77
24.6
MD 806
16.2
MD 355
15.1
17 [9]
MD 26
14.6
16 [8]
Motter
14.6
16 [8]
Oppossumtown
13.9
14A [7A]
Seventh
13.4
14 [7]
Rosemont
12.6
13 [6B]
US 40*
12.6
13 [6A]
MD 144
11.9
12 [5]
US 40*
11.5
11
MD 180
11.3
10
I-70
52
8.8
-
Mt Zion
7.0
-
US 340*
10
1.4
MD 464
0.4
MD 28
0.0
VA Line