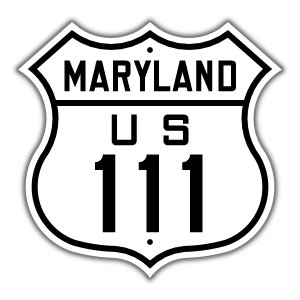 Baltimore
Maryland Line
Parkton
Hereford
Cockeysville
Timonium
Towson
Baltimore City
US 111
· was York Rd., Greenmount Ave, later Baltimore-Harrisburg Expwy
from North Ave. (US 1), Baltimore north to PA Line.
Decommissioned in 1963. Entire original path in Maryland is now MD 45. Entire new freeway path is part of I-83.
US 111 was diverted onto the current I-83 during the fifties and later totally decommisioned in 1963. Route 45 was posted on the bypassed sections piece by piece. The part south of the I-695 beltway was US 111 until the end, and 45 only fully replaced 111 in 1963.
York Rd becomes Greenmount Ave at what appears to be an indeterminate point around 43rd St in North Baltimore. This is a remnant of the old 1888 Baltimore city limits. Until 1888, the northern limit of Baltimore City was North Avenue; the city reached its current size and shape, roughly similar to the state of Nevada, in 1918. The annexed stretch of York Rd retained its name thereafter.