US 301
· Blue Star Memorial Hwy, John Hanson Hwy [with US 50]
123.30 mi. in Maryland; from VA line at Harry W. Nice Bridge northeast to DE line near Warwick.
Status: Marked north-south.
NHS: Entire length in Maryland.
To understand the past importance of US 301 in Baltimore, take a trip down I-97 from its northern end at I-695 Exit 4. Beside that first I-97 shield, we have [TO MD 3] and [TO US 301]. This for a route that was diverted to the Upper Eastern Shore fifty years ago, a remnant of a time when this corridor was US 301.
US 301 arrived with the completion of the Harry W. Nice Bridge across the Potomac River in 1940. The early history of 301 is closely intertwined with that of MD 3, whose alignment it superceded all the way up to Baltimore. Robert Crain Highway from Glen Burnie south to Charles County was opened as MD 3 on October 22, 1927.
The MD 3 designation was relegated to secondary usage for the remaining appendix leading down to Cobb Island (today's MD 257), and some old alignments in Charles County as they were replaced by 4-lane dual 301 in 1954. MD 3 would have ducked back and forth like MD 7 and 144 still do along US 40 today.
The Glen Burnie Bypass (the part of I-97 north of Exit 12), the Baltimore Beltway (I-695), and the Baltimore-Washington Parkway / Russell St. (MD 295) took the northern portion of the route off surface streets. Previously, US 301 / MD 3 followed Baltimore-Annapolis Blvd. into Baltimore City, then turning northwest onto Monroe St., where it ended at US 1 in southwest Baltimore. Old Crain Hwy. into Glen Burnie became Business MD 3; B&A Blvd. became MD 648.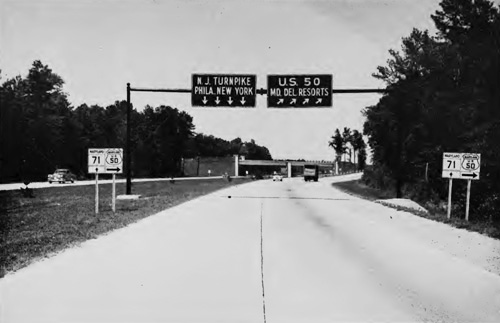 US 50 / MD 71 split, from A History of Road Building in Maryland, 1957-58.
Sometime between 1954 and 1961, US 301 was duplexed with US 50 to the Eastern Shore, leaving the portion to Baltimore again the domain of MD 3 (until the arrival of I-97). East of the split with 50, US 301 bolts northeast towards Middletown, Delaware along a 4-lane dual highway completed in the late 1950s as MD 71. Increasing traffic and flatness of the terrain have led to many direct crossings being eliminated in the name of safety; one has to travel along 301 for a distance and make a U-turn at a designated turnaround back to the other side of their intended route.