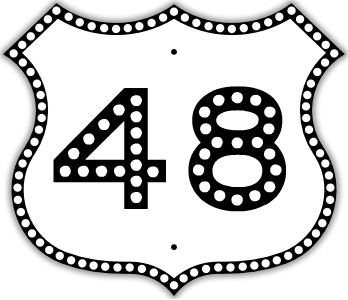 Garrett
Allegany
Washington
US 48
· National Freeway
Decommissioned c. 1991, and redesignated Interstate 68.
Plans for the National Freeway were first conceived in the 1970s, as a means to enhance access to the far western counties of Allegany and Garrett, which hitherto relied upon US 40 for all east-west travel. The region was better linked geographically and economically to adjacent parts of West Virginia and Pennsylvania than to the rest of Maryland. US 48 was then assigned to the completed sections off I-70 in Hancock and the original US 40 Bypass in Cumberland, and multiplexed with US 40 in incomplete areas.
SHA originally had no intent to give the National Freeway Interstate status, and planned to leave it as US 48, especially given the substandard 1960s vintage elevated section near Cumberland. I-68 was being reserved for the section of US 50 from Washington to Annapolis that had been constructed with Interstate funds. SHA later decided to keep 50 as the sole number on that stretch, shaking loose the I-68 number; it's secretly numbered I-595 today. About the same time, circa 1991, the final section of full limited access highway was completed, upon which it was decided to change the National Freeway from US 48 to I-68.
This was not the first time US 48 was used. In the 20s and 30s, there was a US 48 in California east of the Bay Area. It was quickly decommissioned, probably in the initial shakeup a year or two after the US highway system was instituted. US 48 has thus been decommissioned twice.
US 48 was revived a third time in 2003, as part of Appalachian Corridor H, WV 55/VA 55 west of Strasburg, VA.