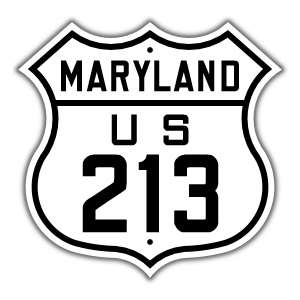 Cecil
Kent
Queen Anne's
Talbot
Caroline
Dorchester
Wicomico
Worcester
US 213
originally from US 40, Elkton south to Ocean City
later truncated to US 50, Wye Mills
Decommissioned late 1970s. North of Wye Mills, entire route is now MD 213. US 50 follows old route south of Wye Mills to Ocean City.
US 213 was part of the original US numbering, and ran roughly along the same route as modern US 50, through Salisbury and so touching the parent route on the way to Ocean City. 1949 is the pivotal year. On the 1948 official map, 50 ended in Annapolis, and a ferry carried cross-bay traffic to Matapeake, about the halfway point of modern MD 8. The road on both sides was designated MD 404, running along the current eastern Bay Bridge Approach. In '49 US 50 was re-routed across the Bay using the ferry (in preparation for the Bay Bridge in '52-'53 (?), and replaced US 213 south of Wye Mills and MD 404 west of same. It also left 213 cut off from its parent. From there, it was only a matter of time till the axe fell.
Dan Moraseski reports this routing of 213 from a 1938 Rand McNally map (prior to the Choptank Bridge) as follows, north to south:
MD 213, Elkton to Wye Mills,
MD 662, Wye Mills to Easton,
MD 331, Easton to Vienna,
US 50, Vienna to Salisbury,
MD 346, Salisbury to Berlin,
MD 707, Berlin to Ocean City.