US 220
· McMullen Hwy, National Freeway [with I-68], No Name [north of I-68]
27.37 mi. in Maryland; from WV line near McCoole north to PA line.
Status: Marked north-south.
NHS: All except north of MD 53 southwest of Cumberland to I-68.
Associated Secret-Obscure Routes: 807 830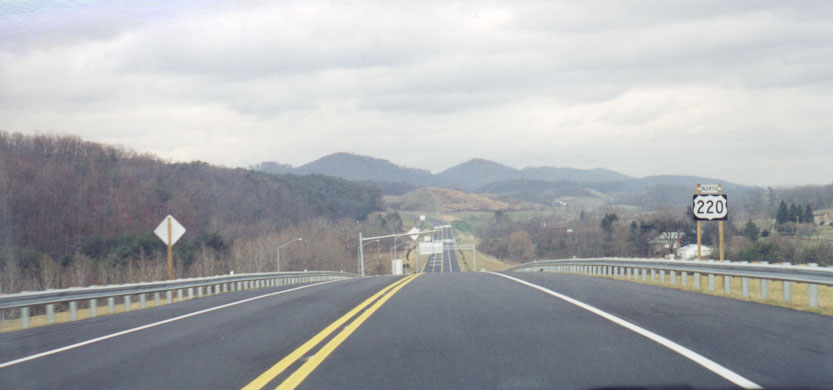 US 220 was an original 1926 US route, with the first rerouting being off of Greene Street onto the bypass of Cumberland that is now I-68. Naves Cross Rd., the part of 220 between the old and new alignments northeast of Cumberland, was originally MD 395. The old 220 south of Naves Cross to the Cumberland city limits was unmarked MD 807. That secret number was extended along Bedford Rd once bypassed.
On September 18, 2000, new US 220 northeast of Cumberland was opened from I-68 to the Pennsylvania border, a wide 2-lane road with wide shoulders and guardrails to replace the narrow old 220 with mixed thru and residential traffic. The prelude to I-99 in Maryland.
This new section of 220 remains officially nameless. Hopefully they're not saving it for Bud Shuster. My money would be on it being named for the Cumberland native and former Speaker of the Maryland House of Delegates, Casper R. Taylor, Jr.
South of Cumberland, US 220 is known as the McMullen Highway, with large concrete milestones all the way down to McCoole. The larger city though is Keyser on the West Virginia side. The Potomac bridge is apparently maintained by West Virginia, and is slated to be repaired/replaced. It certainly shows the wear of decades of heavy usage.