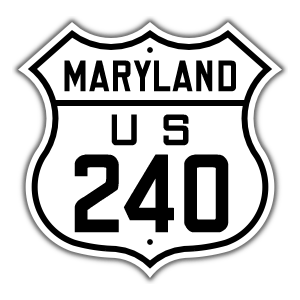 Frederick
Frederick
Urbana
Montgomery
Hyattstown
Clarksburg
Gaithersburg
Rockville
Montrose
Bethesda
US 240 (1926-1972)
from Patrick St (now MD 144, then US 40) in Frederick south to DC border, Friendship Heights.
Status: Decommissioned 1972, pre-freeway alignment now MD 355 (Business MD 355 in Urbana), freeway routing now I-270.
The Washington-Frederick corridor that became US 240 was first traversed in the turnpike era by the Rockville Pike and Urbana Pike, leading to the Frederick-Hagerstown Turnpike, which in turn connected to the National Road at Cumberland. US 240 would be an original US route designation in 1926.
By 1950 pieces of the new Washington National Pike are being completed, first in Frederick County, then in Montgomery, reaching MD 109 by 1953 and MD 121 the next year. The mainline US 240 designation was shifted onto the new freeway, the old not becoming MD 355 right away, but another incarnation of Alt 240, before being dropped two years later in favor of 355, at the same time the portion south to MD 28 in Rockville was opened. Construction reached MD 187 by 1959, and back to the old US 240 near Pooks Hill in 1960, at the same spot as the Capital Beltway would soon intersect. Another new designation would appear on Maryland official maps that year, I-70S. US 240 would be dropped in 1972, the remaining stand-alone section inside I-495 also becoming MD 355.
These roads were used as temporary connectors between old and new 240 (all these are between today's MD 355 and I-270) as construction progressed southward through Montgomery County, according to Maryland official maps:
1951, none - complete from US 15 [now MD 85] south to Frederick/Montgomery County Line
1953, none - complete south to MD 121
1954, MD 121 at Clarksburg - only year for associated Alt US 240
1955, MD 118 at Germantown - MD 355 first appears
1956, MD 28 at Rockville
1959, Montrose Road - complete south to MD 187, I-70S first appears
1960, none - entire length completed
US 240's official northern end until 1959 was at Patrick Street in downtown Frederick, today MD 144, US 40 then. It would have been a dual US 15-240, south to the split at Buckeystown Pike, now MD 355 and 85. US 15 would have continued on northward out of Frederick. In 1959 both US 240 and US 15 would be rerouted out of Frederick to the new bypass, and the old route through Frederick, including that portion that had only been US 15, would become part of MD 355, despite never having been part of 240. (The normal number for old sections of 15 is 806) From 1959 to 1972 the northern end was coincident with that of current I-270.
By the time it was dropped in 1972, US 240 had its official southern end at the Lincoln Memorial, after entering along Wisconsin Ave, then Massachusetts Ave, reuniting with Alt 240 at Dupont Circle, taking Connecticut Ave south of the circle to US 50 just northwest of the White House. In the 1946 map, it appears to take 18th St down to Constitution Ave.
Montgomery
Edgemoor
Bethesda
Chevy Chase
US 240 Alternate [Edgemoor-Washington] (1932-1968)
from DC line near Chevy Chase north to Wisconsin Ave (now MD 355, then US 240), Bethesda (Edgemoor).
Status: Decommissioned 1968, route is now part of MD 185 and MD 410.
US 240 Alternate was in place as a bannered route between 1932 and 1968. Its parent mainline route would outlive it by four years.
Where MD 355 intersects MD 187 today, but originally the fork of the Rockville and Old Georgetown Pikes, was the area once referred to as Edgemoor. It's more lost in the general definition of Bethesda today. In any case, Alt 240 took off eastward from Edgemoor on Watkins Street (now called East West Hwy), then as now MD 410. Upon reaching Connectcut Avenue (then MD 193, today 185) it turned south, entering DC at the Chevy Chase Circle. It was concurrent with MD 410 and MD 193 along its entire run in Maryland. Once in the District, Alt 240 took Connecticut Avenue down to Dupont Circle, where it met Massachusetts Avenue which carried mainline 240.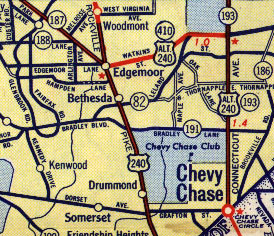 US 240 and Alt 240 from a 1946 Rand McNally Washington DC inset.
Frederick
Buckeystown
Urbana
Montgomery
Clarksburg
US 240 Alternate [Clarksburg-Buckeystown] (1954-1955)
from US 240/MD 121 in Clarksburg north to US 240/US 15 in Buckeystown.
Status: Decommissioned 1955, route is now part of MD 355 (Business MD 355 in Urbana).
Associated Secret-Obscure Routes: 355
This Alternate US 240 only appears in 1954, as the new Washington National Pike was complete between US 15 (now MD 85) near Buckeystown south to MD 121 in Clarksburg. By the time of the next extension southward in 1955, to MD 118 in Germantown, Alt 240 had disappeared, replaced by MD 355. The remaining old sections of US 240 would receive the MD 355 designation as the new route rolled southward.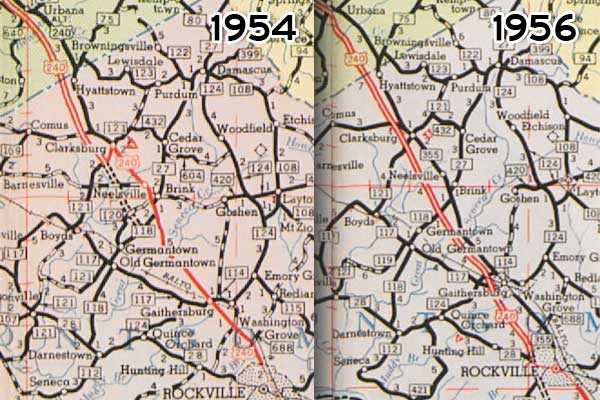 US 240 Alternate and MD 355, from 1954 and 1956 MD official maps. The 1955 map had US 240 complete down to MD 118, the extent shown as under construction in 1954.